This page gets updated throughout the year with new programs, so please check back with us often. If you would like to be
notified of future events
, please visit our
Contact Us
page.
Unless otherwise stated, all performances are at Whippoorwill Hall, 19 Whippoorwill Road East, Armonk, NY 10504. Please use the Kent Place entrance. Directions to the theatre, which is adjacent to the North Castle Public Library, can be found on our Travel Directions page.
Tickets for programs with an admission charge may be purchased at the door on the evening of the performance. When advance ticket sales and reservations are offered, it will be noted below.
Upcoming programs: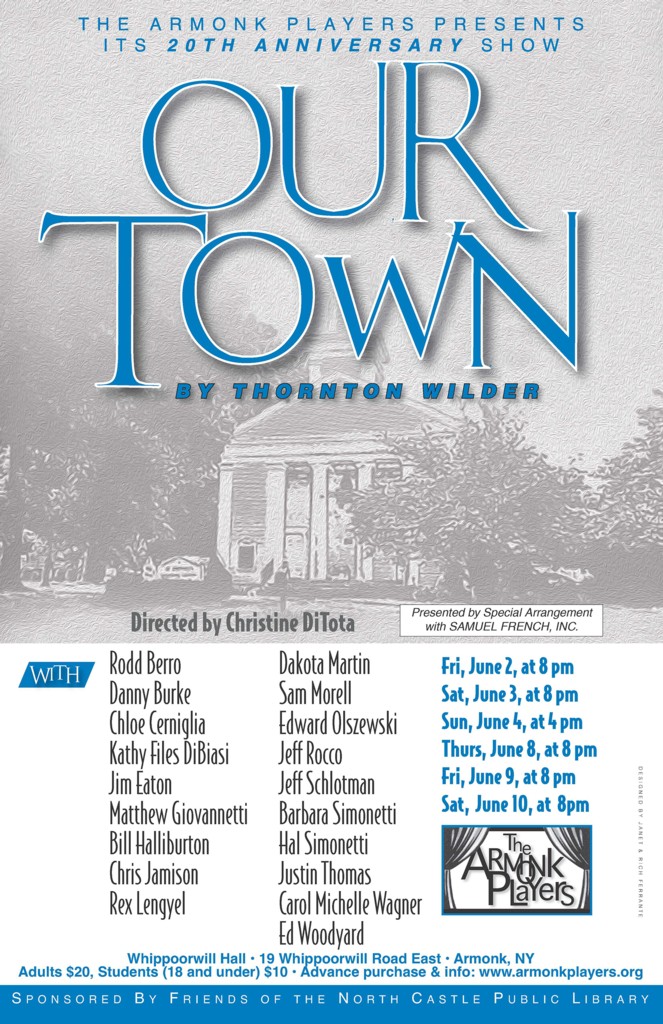 Poster Design & Graphics: Janet and Rich Ferrante. Ferrante & Associates. Advertising / Design
Friday, June 2, 2017 at 8pm
Saturday, June 3, 2017 at 8pm
Sunday, June 4, 2017 at 4pm
Thursday, June 8, 2017 at 8pm
Friday, June 9, 2017 at 8pm
Saturday, June 10, 2017 at 8pm

The Armonk Players Presents
Our Town
By Thornton Wilder
Directed by Christine DiTota
Presented by special arrangement with SAMUEL FRENCH, INC.
With: Rodd Berro, Danny Burke, Chloe Cerniglia, Kathy Files DiBiasi, Jim Eaton, Matthew Giovannetti, Bill Halliburton, Chris Jamison, Rex Lengyel, Dakota Martin, Sam Morell, Edward Olszewski, Jeff Rocco, Jeff Schlotman, Barbara Simonetti, Hal Simonetti, Justin Thomas, Carol Michelle Wagner and Ed Woodyard
Adults
: $20,
Students (18 and under)
: $10
The Armonk Players celebrates its 20th anniversary with Thornton Wilder's Pulitizer Prize-winning play, an irrefutable classic of the American theater and a work of warmth and humanity.
Our Town transports us to Grover's Corners, a place of secret wishes and disappointments, loves and losses, where the people we encounter are shockingly like the ones in our own lives. Meet Emily and George. They've grown up together in their small New England town, falling in love in a surprisingly complicated way. Their lives provide the lens through which the story is told, a story that focuses on a village but encompasses the eternal, finding the world in a grain of sand.
Ticket Purchase Information
"Walk-ins" are always welcome (we have ample seating), but we recommend that you purchase your tickets in advance online—you choose the exact seats you want, there is less waiting in line and you may pay with a debit card or credit card.
"Walk-ins" may only pay with cash or by check
(made out to either
Friends of the North Castle Public Library, Inc.
or
FNCPL, Inc.
)—we don't accept credit cards at the theater.